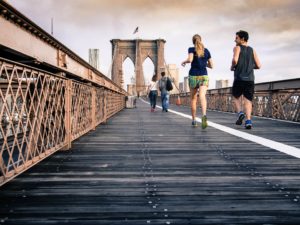 We can't stop the aging process; but we can slow it down … and appreciate the blessing of time.
A few wrinkles (OK, eventually, a lot of wrinkles) are a small price to pay for what matters on the other side of what doesn't. Seems we have to learn for ourselves that money can't buy love and that we can't really love others until we've learned to love ourselves.
That's big! No wonder we're half way through our lives (if we learn fast) before we get it. The good news is that we're now living about 78 years — 30 years longer than we did at the turn of the century. The better news is that we're also learning how to improve the quality of that extra 30 years.
You can treat your body like the temple it is. And you don't have to make a full time job of it; you do have to develop a healthy lifestyle and stick with it.
First, the obvious: If you smoke, stop. Smoking is the No. 1 cause of preventable death in this country. If you're overweight, eat less. Obesity (or weight-related disease) comes in second.
And as part of a weight-loss program (there's a two out of three chance you need one), you can exercise, vigorously.… More