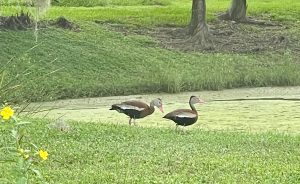 My breakfast companions …
I just love my picnics at this little pond. Today, these two flew in to join me. At first, it may seem a coincidence. But you don't believe in those, right? It's so much easier to be grateful when you don't.
The first flew back and forth majestically and then landed right in front of me. Shortly, the other flew directly in beside him. And I watched as they prodded each other.
Happy divinely-orchestrated Sunday, my dear friends.