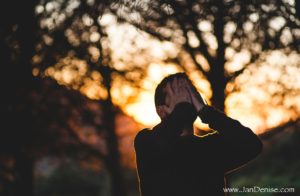 I finally realize that the reason I keep moving from one woman to the next is that I'm afraid I'll cheat again. It's been six years since my divorce, but I am still pained by my behavior. And I don't want to hurt anybody else.
We might assume that people don't commit because they want newness or variety, but sometimes they're just afraid … not only of hurting somebody else but of feeling the pain of guilt when they do.
So, how do we forgive ourselves and experience peace?
Chances are you've betrayed somebody or been betrayed — maybe both — and if you've been honest with yourself, you know there were two players. In a partnership, it's not quite as simple as one thoroughly innocent party and one thoroughly guilty party.
While you can't blame anybody else for your own behavior, neither can anybody else blame you for theirs. We're all learning — mostly through hard knocks.
No, I'm not attempting to justify or trivialize betrayal. I can't justify other forms of deception either, though. And when one partner cheats, often both partners were just going through the motions of a relationship, pretending not to notice that something, or just about everything, was wrong.
~ So, we have to take steps to real forgiveness:
~ Look at the truth;
~ Assume responsibility for your own role;
~ Learn from it;
~ Commit to applying what you've learned.
My own blundering has pained me more deeply than anybody else's. Fact is — nobody else can really hurt me. I always get to decide how to respond to their behavior. But when I'm the culprit, there's no consolation in knowing I did my best.
Or is there? Chances are, if I (or you) could have done better in any given moment, I would have. Sure you can hit a homerun once in a while … but it doesn't mean that when you get up there and strike out that you weren't trying.
If we make a practice of consciously doing our best, we minimize our regrets — and our guilt. And with practice, our batting average is bound to improve.
What doesn't work is refusing to see what really happened. We can't learn from the truth if we turn a blind eye to the replay … and make the ump — or our partner — the scapegoat.
We learn how to get the result we want by looking at what we did to get the result we didn't want. And when we've learned that, it makes a mistake a whole lot easier to cope with. Then we're getting a lesson worth the painful struggle. If we could have paid less, we would have. And this is true even when we feel like a complete idiot or coward or monster.
Assume responsibility. Don't beat yourself up. And don't run off and make the same mistake. Learn from it.
When we repeat a mistake over and over again, it can seem like we're shackled to the pain and guilt. But when we truly face what we feel and why — rather than just wrestling with the shackles — we get the lesson both intellectually and emotionally. We really don't want to cheat again. We choose differently. And we begin to feel pretty darn good about ourselves.
The key to forgiving yourself is knowing that the person you are today wouldn't make the same mistake.
The guilt you can't get away from is not the guilt of doing something bad; it's the guilt of being bad. That's your worst fear. But the notion that you are bad is false.
When our friend has really learned the lesson, he won't be afraid of cheating or hurting somebody again. He'll trust himself to make a commitment and keep it.