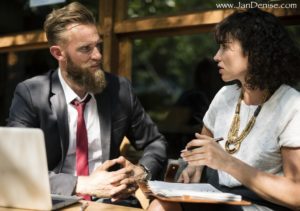 We all have "deal breakers," but we don't all talk about them — or even think about them!
Hey, if we acknowledge them, especially out loud, then we look foolish ignoring them. And sometimes that's exactly what we prefer to do. It's tough enough to strike a deal with somebody, right? You might not give much thought to what makes it, let alone what could break it.
But what if denying key elements of what we want is largely responsible for our trying to make something else work and missing out on our bliss?
When you disregard your deal breakers, you disrespect yourself (and somebody else). It feels better than sitting on the sidelines … but only until your relationship tumbles down, yanking all your hopes of happily-ever-after.
"It hurts, but I knew from the beginning there was something missing — I couldn't see any passion in his eyes … I just had to gather the courage to accept that it couldn't really work, I NEED passion," says one client.
Whenever you find the courage to face the truth, be thankful. And communicate it.
"Everyone has 'deal breakers,' says Dr. Ava Cadell, founder of the Loveology University and creator of the Mutual Love Agreement, or MLA, "and the only problem with those deal breakers is when both people in a relationship are not aware of them."
While our traditional wedding vows are warm and reassuring, they're not near as pragmatic as Cadell's MLA. Cadell suggests that we include things like definition of the relationship, sexual expectations with a timetable, spiritual practices, financial obligations and parenting rules, and use her "love contract" in lieu of or in conjunction with a prenuptial agreement or marriage certificate.
I'm thinking when expectations and practices change (and they do), we'd have to revisit the contract. But maybe we'd do well to reassess our commitment periodically — not as a means of breaking it but as a means of keeping it.
That said, if you're striving for unconditional love, traditional vows are apt to feel more comfortable, but don't use that as an excuse to bury your head in the sand. You have to know yourself in order to share yourself and let yourself be loved. Deal breakers reflect your core values and important preferences.
There's no denying the merit of discussing what's in Cadell's MLA, and having a format can make it easier to tackle subjects that you're apprehensive about — you know, the stuff you most need to lay on the table.
The contract's categories (which can be easily modified) include: Full disclosure, definition of relationship, goals for our relationship, social, financial, sexual, boundaries, spiritual, parenting and grounds for termination. Talking about them is bound to help uncover what makes and breaks a partnership for you.
No, it's not too late to address what you want in a relationship just because you've already committed. As long as you're alive, give your relationship, and yourself, the best shot you can at being happy.
You just might be surprised at how your partner responds. If you have deal breakers, they can cause you to bow out of your relationship — whether you actually go running down the street or not. And that's no fun for either of you.
Let's say one of your deal breakers is deception. Wouldn't it serve you and your partner if you both agreed to be honest? Sounds like a no brainer, but people lie in relationships, sometimes even about things that don't matter.
When you find the courage to get everything out in the open — including all the things that do matter — remember that the truth is your friend. Don't ask for the truth about what your partner considers a satisfying deal and then attack it.
The truth is the truth, even when we ignore it or attack it. Talk about it. Understand it. Accept it. Then, you can do whatever you want with it. And so can your partner.