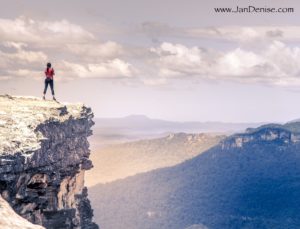 You've probably heard the expression, "Don't play small." It tells us not to live small. It also tells us not to act, or pretend to be, small. We are not small. We are big … we are huge!
Why not go for all of what you want? Why not trust God, or the universe, for all of what you want? Half of what you want is no easier than all of what you want.
Maybe you're afraid that you're not ready. Maybe you're not. Part of getting ready is thinking big and living big. Life will happen a step at a time — as you are ready. You don't have to worry about taking step 59 — not until you've taken steps 1 through 58. So, go ahead, take the next step, whatever it is. You're ready for that one.
And, don't let go of big while you're taking those little steps. That's what living big is — it's knowing your bigness whether you're taking baby steps or giant steps. You're big! Don't believe or accept less.
Maybe you're afraid that you want something that's not good for you. Trust your spirit.
Live big! Smile big! Love big! Because you are BIG! Because God is BIG!