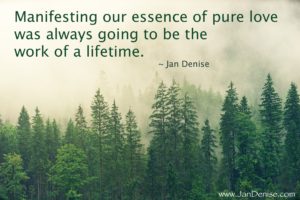 Sometimes it seems like we took the long way or the hard way. We may think we could have or should have made better choices. We may blame somebody else for what seems like a sorry situation or life.
But manifesting our essence of pure love was always going to be the work of a lifetime, no matter what path we took. And when we begin to accept that and flow with it, we let go of the struggle and embrace peace and joy.
It is our journey, our flow, our life, our love. And we don't have to land anywhere to be happy. The kingdom is within. It has always been there. And it is simply love, pure love, everything good, untainted by the fear of lack.
Manifesting our essence is more than the work of a lifetime, it is the glory and majesty of a lifetime.