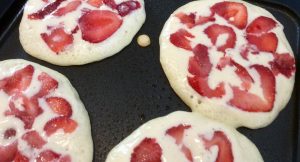 LOVE YOURSELF TO A HEALTHY WEIGHT
Is weight standing between you and the relationship of your dreams? Reaching a healthy weight is part of loving yourself well.
TIP THREE: Put less on your plate, so you can afford seconds! Never fill your plate!
We don't need a whole plate of food. Remember that you can get more; don't eat every meal as though it's your last. When we eat like there's no tomorrow, we eat more, and we eat faster, like it doesn't matter how much we eat. It does matter. We have to wear every calorie we eat, unless we burn it. When you put less on your plate, you'll be pickier about what you put on there.
PRACTICE: If you'd like to lose more than ten pounds, put half as much food on your plate as you THINK you want. Savor every bite. Wait. If you still want more, help yourself to half as much as you ate the first time, just taking more of what you were able to truly savor (Tip One). You can do this! You can love yourself to a healthy weight!… More