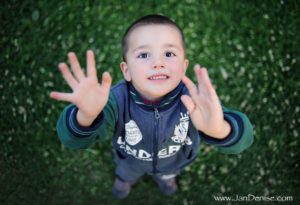 While his mom and dad saw the eye doctor, he colored pictures and helped Tweety Bird through a maze. And when he found a tic-tac-toe page, he asked me, "Do you want to play tic-tac-toe with me?"
"Her's not a stranger, her's a nice lady," he told his parents.
That was my high praise for the day! It is my high praise — and yours, too, I suspect — for any day. It is also our ticket to peace and prosperity, as individuals and as a society.
"Blessed are the meek for they shall inherit the earth," Jesus told the crowd on a mountainside.
It's easy to be meek with a young child because we don't feel threatened; we have nothing to prove and no ulterior motive. We needn't reserve meekness for children, though; demonstrating it earns respect from those who are most discerning and untainted.
"Outside show is a poor substitute for inner worth," said Aesop.
Yet outside show is often exactly what we present to grown ups — not because we don't have inner worth, but because we don't trust it (or them) enough to let it stand on its own.
But today's crisis has us looking for something we can trust; and it's also making it clear what we cannot trust. Money and ego. Back me up here, doesn't that leave inner worth, maybe the laws of the universe or God?
None of us are really strangers — we all share the same spirit, the same home, the same resources — but big business has treated us like strangers. And let's own some responsibility here: We have also treated big business like strangers.
Sometimes it was convenient to forget that we are the big business of banking and insurance and healthcare and government. We ran to the doctor or stretched the loopholes on our taxes as though somebody else were paying for it. Maybe we even saw it as an act of civil disobedience; but it wasn't.
"The first and worst of all frauds is to cheat one's self. All sin is easy after that," said Pearl Bailey. We step on a slippery slide by selling ourselves short for a quick fix.
When Jesus said that the meek would be "blessed," using a more literal translation of the original Greek word, he really said that the meek would possess an inward contentedness and joy unaffected by physical circumstances.
That makes it easier to embrace the truth of the teaching of Jesus; but if we were taught to take the Bible literally, fear might keep us from asking "irreverent" questions that help us reconcile the teaching with what we inherently know. And if we were not taught to take the Bible literally, we might simply write it off as a piece of literature that doesn't apply to us today.
Either way, we cheat ourselves. And that can lead to the habit of "missing the mark" (literal translation of sinning) and treating others, as well as ourselves, as strangers rather than co-inhabitants of the earth.
"Friendship is the only cure for hatred, the only guarantee of peace," said Buddha.
The first definition of meek, according to Webster's, is: patient and mild; not inclined to anger or resentment. Being meek is a way to stay nice, make friends and peace and, yes, possess an inward contentedness and joy unaffected by physical circumstances … something we're learning to truly appreciate.
When those who are behaving like strangers instead of nice ladies and gentlemen are through fighting over the earth, the meek will inherit it. When we do, we will begin again with a sense of our common purpose to live well and love well.
And since there really is no "we" and "they," now is the time for each of us to begin again and play nice.