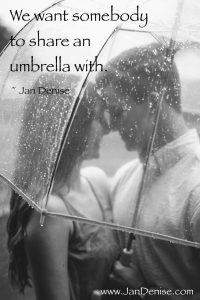 What exactly is it that we yearn for, though?
Something that makes us feel happy, safe, cared about, connected?
Something we saw in a movie or in the happily-ever-after of a fairy-tale sunset, something we heard in a song, something somebody told us we would find someday? Something that satisfies a biological need? All of the above!
We want somebody to eat the pizza with, process the movie with, stand speechless with, wake up with, die with. We want somebody to call when our flight's delayed, somebody to answer the phone before we spend a night in jail.
We want somebody to know who we are, what we're truly about … in a world that often looks right through us. We want somebody to see us glisten in the moonlight. We want to be valued. We want to be loved … unconditionally.