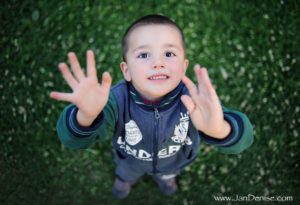 While his mom and dad saw the eye doctor, he colored pictures and helped Tweety Bird through a maze. And when he found a tic-tac-toe page, he asked me, "Do you want to play tic-tac-toe with me?"
"Her's not a stranger, her's a nice lady," he told his parents.
That was my high praise for the day! It is my high praise — and yours, too, I suspect — for any day. It is also our ticket to peace and prosperity, as individuals and as a society.
"Blessed are the meek for they shall inherit the earth," Jesus told the crowd on a mountainside.
It's easy to be meek with a young child because we don't feel threatened; we have nothing to prove and no ulterior motive. We needn't reserve meekness for children, though; demonstrating it earns respect from those who are most discerning and untainted.
"Outside show is a poor substitute for inner worth," said Aesop.
Yet outside show is often exactly what we present to grown ups — not because we don't have inner worth, but because we don't trust it (or them) enough to let it stand on its own.
But today's crisis has us looking for something we can trust; and it's also making it clear what we cannot trust.… More