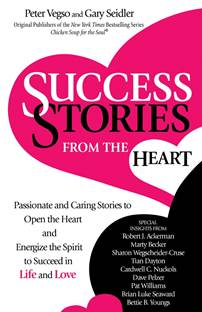 Health Communications, Inc., (HCI) has been a leader in the field of self-help book publishing for over four decades. The essays that fill the pages of Success Stories from the Heart are penned by HCI authors (including Jan Denise), some of the most respected authorities in the field of personal transformation. Their stories of life-changing events are poignant and inspiring.
They share journeys to find the truth, the unexpected discoveries they made along the way, and the spiritual renewals they experienced as a result.
Let Success Stories from the Heart inspire you to find better, more fulfilling ways to live!
Do you feel plagued by embarrassment, shame, guilt, or jealousy?
Do you strive for something that will make you happy, yet never seem able to find it?
Do you fear that something is innately wrong with you? If you are one of the millions struggling with the fear of not being "good enough," Innately Good is your guidebook to happiness and self-love. Jan Denise identifies the origins of the tainted idea that we're innately flawed and provides a solid framework to help us undo the damage created by this myth. She reveals how to:
gain the self-esteem and self-acceptance to enjoy life's true meaning
overcome the fears, distractions, and negative emotions that stem from ego
stop seeking approval and clinging to feelings of inferiority
align choices and behaviors with who we are inside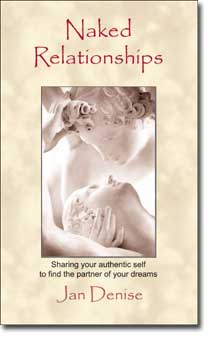 Also available on CD
(set of 3 CDs)
In Naked Relationships you'll learn to take nakedness to a new level, physically, mentally, and emotionally. You'll begin to understand relationships in a way you never did before. And you'll come to know that there really is a recipe for perfect love. Find out the three basic ingredients that make up relationships, and how different types of love emerge when certain proportions of these ingredients are present. Best of all, you'll acquire tools to perfect the most important relationship of all — your unconditional love of self — so that the real you emerges, beautifully naked, ready for an honest relationship with a partner.
Learn the 7 steps to "getting naked" physically, mentally, and emotionally.
A beautifully concise, practical guide to building healthy relationships.
Reveals how acting from your higher self leads to peace, harmony, and abundance.
Find out how to build honesty and acceptance, tell what kind of love is right for you, and know when to let go.
Don't Get Ready, Get Naked
We started getting ready before we truly knew ourselves and have, perhaps lost sight of the sacred heart with which we started. This intriguing book of aphorisms encourages us to get naked and find the greatness we've been trying to conjure up with all the stuff.
You can dress up as somebody else, but what happens when you want to take your clothes off?
You can only get naked as you.
Being happy with yourself does more to make you beautiful than any other single thing.
Never, ever dress up your feelings in nonchalance.
Don't put a bandage on your knee when it's your heart that's bleeding.
If you always cover up when you start to feel vulnerable, you'll never know how wonderful vulnerable can feel.
Living naked is living in love and at peace.
The Person I Don't Have Time to Be... Is the Person I Am
A beautiful book of aphorisms, introduced by one of Jan's most touching works, beckons us from the busyness and reminds us of what makes life worthwhile. It presents simple truths, with no evidence to sift through, that rely on the witness of the heart.
The person I don't have time to be doesn't change her mind because she's outnumbered or outranked.
Trades control for adventure.
Is not so caught up in what he's after that he's oblivious to something more.
The person I don't have time to be spots little girls who don't know that they're pretty and tells them that they are.
I am not bound by finite days, but unleashed by an infinite capacity to love.
In My Ideal Relationship, I Would...
In My Ideal Relationship, I Would... reminds us that the happy ending is up to us. It presents naked truths that rely on the witness of the heart.
In My Ideal Relationship...
I would merge with him, but never lose my sense of self.
I would love all of her unconditionally, not because I was supposed to, but because I couldn't help myself.
I would sleep naked and play naked.
I would never wonder if, in finding me, I would lose him.
I would turn away when she caught me looking at the lines in her face, because my eyes would tell her that I loved her with the lines.
I would yield to hugs and kisses anywhere and anytime.
I would be more charming than I had ever been.
And I would be more in love than anybody had ever been, save him.
...So what am I waiting for?
Shipping, Tax, and Special Requests
On-line ordering is through PayPal's secure shopping cart. You do not have to be a PayPal member to order. All orders are shipped via USPS Priority Mail.
Shipping Fees:
$4.60 on orders up to $27.00
$6.60 on orders $28.00 - $60.00
$8.00 on orders $60.00 and higher
Tax: Florida residents only (7.0%)
Special Requests: A space is provided during checkout for you to include any special instructions. Jan is happy to sign any book for a particular person — whether you or somebody else.