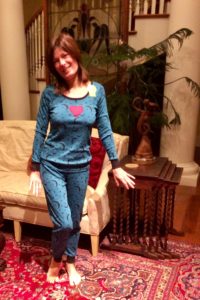 The first thing I did Sunday morning is try on my new PJs. My sister gave them to me after Saturday's baby shower.
Almost 30 years ago, she hand stitched hearts on a night shirt for me. It was Valentine's Day, I was out of town working, and I had no Valentine. But I received the soft pink cotton night shirt all wrapped up in pretty by mail.
Thank you, Sandra Thompson, for hand stitching this heart and filling MY heart with memories.