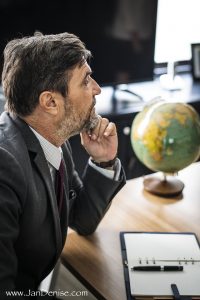 Our society has never been so sexually liberated — or enslaved. We have an insatiable appetite for more.
When we can't get the sex we want with a partner, we seem to settle for getting it vicariously. And the media deliver an ongoing stream of "opportunity." How desperate do we have to be to sit in front of a TV screen week after week to see what "Desperate Housewives" are going to do next?
Sex sells everything from toothpaste to sailboats because we want to have more sex. Or do we?
About 23 percent of unmarried men and 32 percent of unmarried women report that they have not had sex in the last year. About 13 percent of married couples report that they have had sex only a few times in the last year, and 45 percent report that they have sex only a few times a month.
If we wanted sex as much as we let on, wouldn't we participate more often? The average American adult watches TV for four hours and 35 minutes every day — that translates to 365 times a year, or 30 times a month for a lingering four hours and 35 minutes a pop!
You see, there's some effort and risk in having sex, even in the context of a committed relationship. The gratification we get from watching it on a screen requires nothing of us — no physical exertion and no responsibility for our own satisfaction or our partner's. All we have to do is sit back and relax; and if it doesn't come off well, we can laugh at the poor characters on the screen.
And when it comes off the way only special effects, lighting and multiple takes can ensure, we just might be intimidated…and continue to play a "safe" role.
Can we be enslaved by or addicted to sex without actually indulging in it more than a few times a month? Yes. Just as we can be addicted to porn.
We have fueled a $13 billion-a-year porn industry. "A spike in Internet-based porn sales the past few years underscores a thirst for adult content on the Internet that has yet to be fulfilled by large adult enterprises," says Frederick S. Lane, author of "Obscene Profits: The Entrepreneurs of Pornography in the Cyber Age."
The "plain brown wrappers" are no longer necessary. You can have your own personal computer screen, and you can protect your privacy with your own personal pass code. It's an all-you-can-eat buffet…and unless you're a real glutton, it's free!
That doesn't mean you can get your fill, though, not when sex is an addiction, a means of filling a need with something that can never really fill it.
Sex is a natural way to consummate love, to love and be loved completely. It is some of God's best work. It paves the way for emotional vulnerability, and it transforms what could be uncomely parts into mysteriously beautiful and adored ones. It exercises and gratifies our bodies — and it makes babies to keep the species alive!
Sex does not provide an escape or magic wand to make us feel good about ourselves. Yet, that is often what we seek in sex. We try to find self-worth in how desirable others find us, or in how much seed we can sow.
And while sex can provide a pleasing diversion and boost to the ego, it's a temporary fix.
The toothpaste and sailboat manufacturers are not really appealing to our sex drives to sell their products; they're appealing to our egos or our addictions! And as long as we are driven by our egos, their campaigns will work.
What we really want is love; and we want to participate! But that ongoing media stream makes it easy to sit back and get hooked on a substitute.