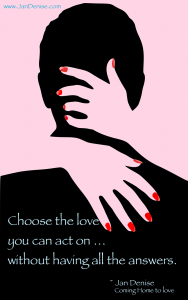 Sometimes we glimpse the kind of love that doesn't need all the answers. And in that moment, we know we could act on it, without regret. We know it wouldn't matter what all the answers turned out to be.
It's not infatuation, but it feels just as captivating. And it has a foundation. We can't see it; but on a primal level, we know there's a connection.
Don't let fear keep you from getting your arms around it.