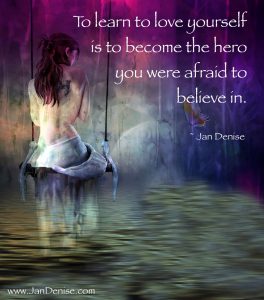 Loving yourself is the quest of a lifetime. But you're allowed to ask questions. And I would be privileged to answer them. Here's an explanation of my new program designed to do just that.
Discover:
~ What love really is
~ Who you are, apart from the facade
~ What it looks like to love you
~ And how it feels to actually exercise the freedom to be you
Getting to know yourself means bringing the unconscious into the conscious. It means looking at what seems dark, and trusting that you can shine a light on it. It means finding the blurred line between you and the facade you created to win approval, and then letting go of the facade as you dismantle it.
When you know what love is and who you are, then you can begin to paint a picture of what it looks like to love you. You can begin to manifest a well-loved you.
You can be the hero you were afraid to believe in.
For options or a consultation:
~ reply to this post
~ e-mail me from my website–www.JanDenise.com
~ or text me at 386-299-6256