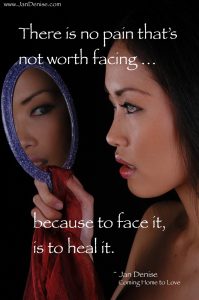 How would your life change if you were to lose weight and satisfy the hunger that food can't?
To help answer the question, I also posed it to Keith Ahrens, the man I introduced earlier who lost 200 pounds, became a fitness trainer and wrote his memoir "Outrunning My Shadow."
"I wish I had a video camera when I see someone I haven't seen in a few years," says Ahrens. "Each time has been a very special moment."
Even those close to Ahrens who were cheering him on are astounded by his transformation.
Since he's never married or had children, one of those closest to him is a niece who recently spent the weekend with him. When Ahrens found her crying with his new memoir, she explained that she had not realized the depth of his pain and his struggle.
How is it that we hide our suffering (and our hearts) even from those closest to us? Perhaps we hide it from ourselves as well — until we must face it as part of a bigger issue, generally with an audience. For Ahrens it was open-heart surgery to save his life; for somebody else it might be another obesity-related disease, divorce or missing out on a promotion.
Why not paint a positive picture that would motivate you to face your pain, lose weight and share more of yourself?
Ahrens says he just turned 48 but feels 20 years younger. People see him as handsome and vigorous. He's looking forward to his 50s and being in better shape than he is today. Women make more eye contact, smile more and want to carry on a conversation longer. He also mentions that good blood flow, fitness and nutrition play a critical role in sex drive and performance.
You might be picturing yourself — and Ahrens — like a kid in a candy store. The best is yet to come, though. If you've struggled with your weight for as long as Ahrens had (23 years), you might need time to adjust to all the new applause and admiration. You might find yourself facing some old fears and forming some new habits.
You have plenty of time, though; you'll be "younger" next year.
Ahrens explains that he has had a fear of intimacy since his parents divorced when he was 13. He made up his mind then that he never wanted to let anyone down. And his conviction screamed out when he told me that he didn't want to hurt another person with passion.
When I asked if he thought the quick weight gain after college was a result of his fear of intimacy, he wasn't sure, but later decided it was related. When I asked if he still had the fear of intimacy, he slowly and thoughtfully said, "Yes."
"That part hasn't changed," said Ahrens. "So many people want to fix me up now, and I'm just not interested."
When you eat to keep people at arm's length, or to fill an emotional void, losing the excess weight doesn't automatically eliminate your reason for gaining it.
"I never really felt that I was good enough for anyone," says Ahrens. "The reality was that I had a great career, was more successful financially than most and had a beautiful home. I had so much to offer someone but couldn't get over the hurdle of intimacy."
Feeling good enough isn't really about money or fitness. As long as Ahrens feels like he might "cheat or stray," he'll be afraid of letting a woman down.
While that almost seems admirable, we can't let our fear of failure keep us from the life we want. Somehow I'm sure Ahrens won't. And I hope you won't, either.
Ahrens and I are both cheering you on!